Discount Disney Cruises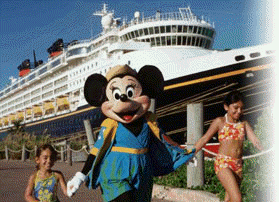 Ahoy Mateys and welcome aboard! Here's your chance to discover what it means to take a fun, family cruise with the Disney Cruise experience. Our discount Disney cruise pricing and the fact that we are an authorized Disney ticket reseller and Disney travel partner gives us a unique ability to help you set sail on a magical dream voyage. Whether it's the Disney Magic or the Disney Wonder , both of which were designed to meet all your unique family cruise vacation needs, we have committed to giving you the information and tools you need to book you discount Disney Cruise as quickly and easily as possible. Feel free to call our travel professionals with any questions. They'll help you with full itinerary planning. Or fill out our online reservation request form and a certified Disney Travel Professional will get right back to you.
The Disney Cruise Line offers a wide range of discount Disney cruises to choose from:
3 Night Disney Bahamas Cruises - This is a fantastic cruise for first-timers & those who already love to sail. Make your vacation dreams come true on an extended weekend filled with magic, romance and the impeccable Disney service. Spend one full day discovering the wonders of Nassau, Bahamas; another marvelous day at Disney's Private island and secluded getaway retreat, Castaway Cay — add to that, the fact that you'll enjoy three glorious nights onboard a ship with activities & amenities only available on the Disney Cruise Line and you can see why this is one of the most popular 3 day cruises sailing the Caribbean.
4 Night Disney Bahamas Cruises - Travel to the heart of paradise as you set sail on a 4 night voyage of relaxation. In addition to a full day at sea Disney style, you'll enjoy a fun-filled visit to Nassau Bahamas, the marvelous capitol of the Bahamas, and Castaway Cay, Disney's incredible private island paradise. And take advantage of the amazing activities, world-class entertainment and fabulous dining opportunities that make a vacation on a Disney Cruise Line ship unlike any other
7 Night Disney Eastern Caribbean Cruises - A tropical adventure awaits, complete with a touch of Disney magic. The white sands of St. Maarten, the wondrous shops of St. Thomas or an exhilarating excursion in St. John. Head on over to Castaway Cay, Disney's private island paradise and discover how memories are made. Also, enjoy 3 magnificent days at sea with Disney's one-of-a-kind activities & unique shows that can only be found on the Disney Cruise Line ships.
7 Night Disney Western Caribbean Cruises - Come along for a voyage filled with Mexican enchantment. Set sail for Key West and enjoy Hemmingway's old stomping grounds. Then it's off to Grand Cayman and Cozumel — each with shops, bountiful beaches their own unique touches of history. Enjoy your time at Castaway Cay, Disney's private island oasis & delight in two peaceful days at sea. The most magical activities, entertainment, dining and accommodations await your entire family on board a discount Disney cruise.
7 Night Disney Land and Sea Vacations - Imagine the balance of legendary service, amazing adventures & pure Disney magic. Now, customize it for your family. That's the beginnings of a Disney Land and Sea Vacation package. Start at the Walt Disney World Resort, where all 4 Theme Parks are yours to enjoy from. Stay at a select Walt Disney World Resort hotel, where luxury and enjoyment is defined. You can even choose to add the Disney Dining Plan, valid at select restaurants throughout the Walt Disney World Resort. Then set sail on a Bahamian voyage to Nassau and Castaway Cay, Disney's private island, with all the spectacular Disney Cruise Line activities & amenities that make dreams come true.